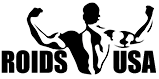 Trackable shipping
Orders are delivered within 5-15 business days
Privacy Policy
At the Roids USA online store, we adhere to strict privacy guidelines in order to protect the privacy of our customers. We only collect information in order to communicate with you, and we never share or sell it.
1. WHY WE COLLECT PERSONAL DATA AND WHAT PERSONAL DATA WE COLLECT
We collect the information provided in the comments form, as well as the visitor's IP address and browser user-agent string, to enable spam detection.
Gravatar may be provided an anonymized string created from your email address if you use it (also known as a hash). The privacy policy for the Gravatar service can be found at https://automattic.com/privacy/. When your comment is approved, your profile photo/avatar will be displayed to the public in the context of your comment.
2. COOKIES
You can choose to save your name, email address, and website in cookies if you leave a comment on our site. These are for your convenience so that you don't have to re-enter your information every time you leave a comment. This batch of cookies will last for a year.
We will create a temporary cookie if you visit our login page to see if your browser accepts cookies. This cookie does not save any personal information and expires when you exit your browser.
When you log in, our website sets up various cookies to preserve your login information and screen display preferences.
Login and screen options cookies are valid for two days and a year, respectively. If you select "Remember Me," your login information will be saved for two weeks. They will be deleted if you log out of your account.
Your browser will save an additional cookie when you change or publish an article. This cookie does not store any personally sensitive information and only shows the post ID of the last changed item. It's just good for a single day.
3. OTHER WEBSITES' CONTENT EMBEDDED
The articles on this site may include embedded content (For example, films, photographs, articles, and so on.) Embedded content from other websites operates as though the visitor had visited that site directly.
These websites may collect information about you, use cookies, embed extra third-party tracking, and track your interactions with embedded material, including if you have an account and are logged in, tracking your interactions with embedded content.
4. HOW LONG DO WE KEEP YOUR PERSONAL INFORMATION?
It saves both the comment and the metadata associated with it indefinitely when you comment. This is done so that any subsequent comments on the forum will be recognized and approved automatically, rather than being held in a moderation queue.
Users' personal information is stored in their user profiles when they register on our website. A user's personal information can be seen, changed, or deleted at any time (except their username). The information can also be read and updated by the website's administrators.
5. MEDIA
Avoid submitting photos with embedded location data if you're uploading images to the website (EXIF GPS). Visitors to the website can download and extract any location data from images on the site.
6. ADVERTISERS
On our site, we employ third-party ad firms to display adverts. Cookies may be used in these advertisements. We use cookies on other parts of our site, but the advertiser gathers them from banner advertisements we don't see.
7. YOUR RIGHTS TO YOUR PERSONAL INFORMATION
You can request an exported file containing the personal data we have about you if you have an account on this site or have posted comments. Any information you've given us will be saved in this file. With the exception of information that we need to maintain for administrative, legal, or security purposes, you can also request that any of your data be erased.
8. WHAT HAPPENS TO YOUR DATA ONCE IT HAS BEEN RECEIVED?
We may employ an automated spam detection service to check visitor comments.
9. PERSONAL INFORMATION SUBMITTED DURING THE REGISTRATION PROCESS
Outside of the Roids USA community, your username and password will never be disclosed.
10. AUTOMATICALLY LOGGED INFORMATION
When you visit our site, our server keeps your IP address in a log file that is used to troubleshoot server difficulties, just like most other sites. This data will be used exclusively within the company and will not be shared with anyone else.
You may be prompted to submit contact information when filling out registration forms on our sites (such as names and e-mail addresses).
Registration data is used to develop new features, maintain and improve service quality, and compile broad statistics on how the site is used.
You will receive notifications on new arrivals, special deals, and discounts on items in our online store if you register on our site. We'll send you news and information about new products and great deals using the e-mail address you provided during registration.
If you do not want to receive promotional updates, you may unsubscribe at any time.
11. YOUR PERSONAL INFORMATION KEPT ON FILE
All personal information provided by registered users is kept entirely secret by our website management system. We guarantee that your personal information (email address, phone number, and home address) will not be shared with any third parties or organizations.
You may submit a request to our staff, and we will promptly delete all of the personal information you provided to us from our systems.
12. CONFIDENTIAL INFORMATION ABOUT YOU
Our clients' personal information is kept private and not shared with any other companies or people. The information you provide upon registration is kept in a safe database. Your IP address is used to diagnose server problems and to keep our website up to date.
When you visit gearstore.biz, it, like most other web servers, logs your IP address. This information is kept private and is only used within the company.
13. ABOUT THE COMPANY
You may find Roids USA at https://gearstore.biz
14. WHAT ARE YOUR OPTIONS FOR CONTACTING US?
Please submit a support ticket using our Contact Us page if you have any questions or issues regarding our privacy policy.